Tired of Powerpoint presentations at meetings and conferences? There are other ways to tell your story.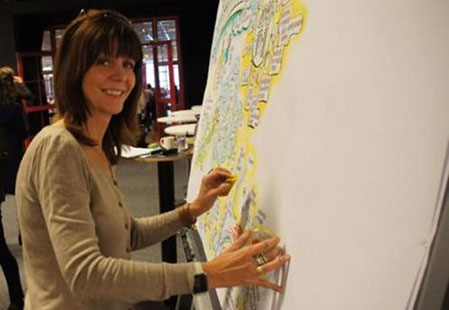 SJ AB
Graphic recording at Executive Meetings and visual support for workplace meetings that take place around the country at SJ's stations. The purpose has been to create interactive and participatory meetings where the images contribute to understanding, exchanges and activity.
Navet – A Story About a School
Graphic recording of the story of the municipal elementary school Navet in Örebro. The school's management team and other key persons gathered to explore and visualize success factors, challenges and draw lessons for the future.
Filmed by Martin Frisén.
Husqvarna Fleet Services
Visual Customer Journey and Requirements for Mobile App Development for Husqvarna Fleet Services.

Karin is responsive, witty, warm and very funny to work with! Karin's work has really contributed to the development of our meetings in a great way and brought curiosity and knowledge of the value with the visual expression to achieve understanding and results.

Our digital development organization attaches great importance to our agile work and culture. Karin helped us visualize this in a simple and fun way through a number of workshops where everyone in the department has participated.